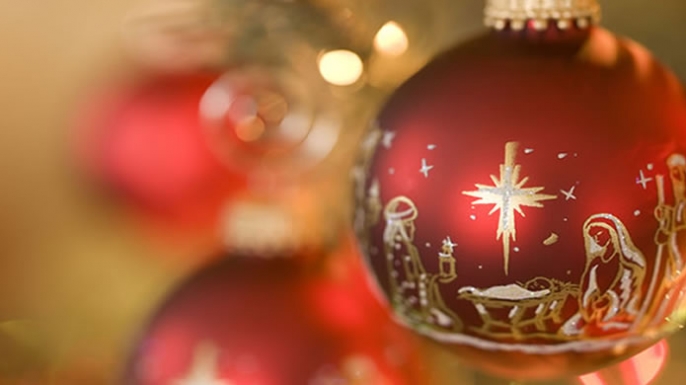 There is much to be said about the magic of Christmastime. I love the "Christmasy" feelings I get when driving around to look at Christmas lights with my wife or watching a classic Christmas movie ("It's a Wonderful Life" is my favorite!) or baking and eating Christmas treats. I love the general spirit of kindness and emphasis on looking past your own needs to help someone else out. I also really enjoy the time with family and church family at this time of year. Singing Christmas music with my church family is one of my favorite things about the season. In fact, Christmas music by itself seems to lift my spirits and fill me with happy feelings. There's SO MUCH to love about Christmas!
Sometimes, Christians feel guilty for enjoying any part of the holiday that does not expressly relate to Christ. Others feel uncomfortable celebrating this day because they can't be sure Jesus was born exactly on December 25th. Yet others elect to abstain from putting up a Christmas tree for fear that someone may worship the tree instead of the wonderful Creator of that tree! Christian friends, please learn to enjoy the wonderful spirit of Christmas by emphasizing three actions this season:
1. Share Christ
Christmastime is a wonderful opportunity to share Christ with your friends, neighbors, and co-workers. It's easy as you are talking about Christmas to ask, "What is Christmas all about to you?" From that conversation, we can share what Christmas is truly about, which is celebrating the fact that Jesus came to this earth to redeem mankind from their sinful state. Don't neglect this special chance to share Christ this year!
2. Show Love
The greatest commandment in the Word of God is to love God. The second greatest is to love others. I submit that you cannot love without giving. To love is to give time, effort, attention, money, clothing, supplies, or other needs. When we give presents at Christmastime, we have an incredible opportunity to reflect Christ's love in our own lives as we show love to others. As Christians, we don't give gifts because we embrace commercialism or materialism – it's because we embrace the spirit of love. What a great time of year to invest in someone else's life!
3. Be Happy!
Go ahead and take a dose of Christmas cheer! Christians have more reason than anyone to be happy! We have the greatest Friend to commune with, we have a church family to connect with, and we have an incredible future to look forward to! Go ahead and wear your biggest smile this season! When people ask you why you are so happy, you may have a chance to share Christ with them!
So don't feel guilty, Christian, for volunteering at the Salvation Army, for listening to cheerful, God-honoring Christmas music, for giving gifts to others, for appreciating God's wonderful creation of a Christmas tree, or for enjoying the Christmas season! Instead, take advantage of this season to emphasize sharing Christ, loving others, and expressing happiness. After all, 'tis the season to be jolly!
read more